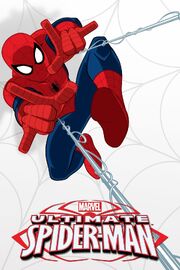 Ultimate Spider-Man is an American animated television series based on the Spider-Man comics published by Marvel Comics. The series featured writers such as Brian Michael Bendis (who also writes the comic book series of the same name), Paul Dini, and Man of Action (a group consisting of Steven T. Seagle, Joe Kelly, Joe Casey and Duncan Rouleau). The third season was retitled Ultimate Spider-Man: Web-Warriors, and the fourth and final season was retitled Ultimate Spider-Man vs. the Sinister 6.
Various minifigures and sets based on the series have been released.
Minifigures based on the series
Trivia
Despite sharing its name, the series had little to do with the Ultimate Spider-Man comics, and only took certain plot elements and designs for specific characters.
This series is set in the same universe as Avengers Assemble (seasons 1-4) and Hulk and the Agents of S.M.A.S.H. as well as the DTV films, Marvel Super Heroes: Frost Fight and Hulk: Where Monsters Dwell.

It was originally believed that the Guardians of the Galaxy TV series was set in the Ultimate Spider-Man universe as well, however, it was later confirmed that Guardians is set in the same universe as Marvel's Spider-Man and Avengers: Black Panther's Quest (Assemble's fifth season), and that it was never canon with Ultimate Spider-Man.
Community content is available under
CC-BY-SA
unless otherwise noted.