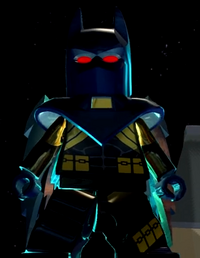 Azrael Batman is a variation of Azrael who only appears in LEGO Batman 3: Beyond Gotham.
Appearances in Story
Azrael Batman does not have a major role in the story but is though to have aided the Justice League in their mission to prevent Brainiac from using the lantern rings to shrink planets into miniature size.
Abilities
Azrael Batman has basic melee attacks such as punches and kicks.
Azrael Batman can use batarangs.
Azrael Batman can fire a heat beam.
Azrael Batman can use the basic, hacking-type tech panels.
Azrael Batman can function like the Light Suit, but does not require fuel.
Unlocking
Azrael Batman is part of the 75th Anniversary DLC
Trivia
Azrael Batman is a good friend of Batman.
Gallery
Community content is available under
CC-BY-SA
unless otherwise noted.