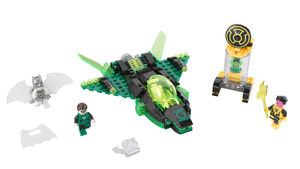 Green Lantern vs. Sinestro (76025) is a new 2015 released set featuring three minifigures. This set is recommended for ages 6-12. The piece count is 174 and it currently retails for $19.99.
Features
The major part of the set is the Green Lantern jet, which is colored mainly green, black and includes trans-green highlights all over. The front is composed of three main sections, one being the cockpit, and the others are curved sides where the wings end. The cockpit is set in the front with a white pilot chair. The jet features a rounded transparent green canopy with a Green Lantern logo printed on a black slope in front of the jet in front. The wings are green with a 1x3 slope piece and a new stud shooter element that seems to connect to another stud rather than have a handle. The back features an exhaust with 1x2 grilles that are black and lime green. The jet has two large flaps on the back which are trans green.
Another section of the set is the Containment Tube. It features a transparent window and a holder for the Lantern to be put inside of it. The rest of the construct is yellow and black. It's feature is made by hitting the Sinestro Corps symbol on the top. When the symbol is hit, the front of the tube "breaks" off, revealing the Lantern.
Minifigures
Trivia
Community content is available under
CC-BY-SA
unless otherwise noted.